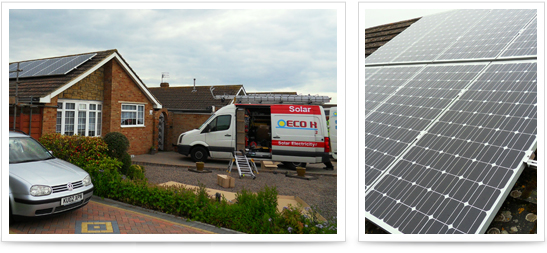 PV systems can be attached to sloping or flat roofs. They can also be ground-mounted. The ideal orientation for a PV system is south, though south-east and south-west are almost as good. West and east orientations can be used but the overall efficiency of a given PV array is reduced. The ideal pitch at latitudes in the south of the UK is 30 degrees, though in practice only slight reductions in efficiency are experienced at pitches from 20 to 60 degrees.
We install a variety of PV modules from leading manufacturers including LG, Sanyo, Schuco, Day4 Energy, Mitsubishi, Romag, TG Solar, Schott, JA Solar, Voltec, Sharp, Longi, and Upsolar.
Our inverters are manufactured by Solis, SMA, Solar Edge, Mastervolt, Diehl, Enecsys, Fronius, Growatt, Goodwe and Power one.
You will make modest savings on your electricity bills since, during the day, you will be using some of the electricity you are producing. The amount you save will vary depending on the size and performance of your PV system and the amount of electricity you use.
We can install a gadget (e.g. iBoost) which diverts surplus generated electricity to your hot water cylinder immersion heater. In this way your PV system can also be used to heat your hot water.
With the introduction of electric cars (EVs) it is possible to charge your car using your PV system. A good solution is to have a battery (Tesla Powerwall 2, PylonTech, PowerFlow etc) which stores surplus PV-generated electricity during the day and then use this at night to charge your EV. Alternatively, charge your EV during the day directly from the solar PV on a slow charge.
See photographs of our installations here.