Solar hot water systems, also called solar thermal systems, utilize the sun's energy by generating heat. This heat is stored in water. (By contrast solar PV systems generate electricity which is fed to the national grid or stored in batteries).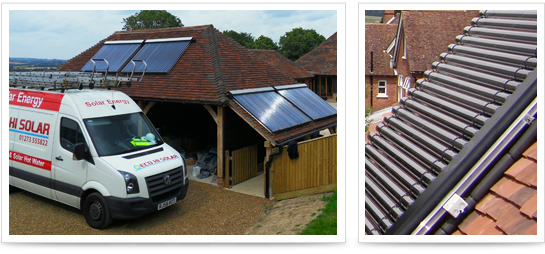 The sun is the source of all our energy. This energy travels through the vacuum of space and is received on earth as radiation. When radiation (light) strikes matter the molecules of that matter vibrate causing friction and therefore heat. This happens even on a cold or cloudy day albeit to a lesser extent.
Solar collectors are selectively coated to absorb this light as completely as possible and minimize thermal radiation losses. Solar radiation is even present on cloudy and cold days and useful at all latitudes in all climates. By using vacuums and insulation it is possible to prevent much heat loss.
Traditionally, solar thermal systems have been used to heat water. The energy required to heat water (about 20% of the energy use) remains more or less constant throughout the year irrespective of the insulation levels of the building.
However, now that homes are better insulated (thanks to Building Regulations and policies such as the Code for Sustainable Homes) there is a reduced energy demand for central heating. Solar thermal systems are now able to provide a larger solar fraction of the overall hot water and central heating energy requirement.
This is achieved by the use of accumulators (a large thermal store) which acts like a battery of stored energy. The energy content of this 'battery' can be called upon to provide hot water and central heating. Energy contributions to the accumulator can be made by solar thermal, wood burning stove, traditional boiler, electric immersion, air source heat pump and ground source heat pump.
As fossil fuel prices rise solar thermal systems become more cost-effective. As consumers we can choose either to accept fossil fuel price increases or to offset them with help from the sun!!
See photographs of our installations here.